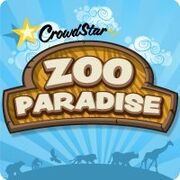 Zoo Paradise is a game created and developed by CrowdStar. Zoo Paradise allows players to run their own zoo. Players can start their own animal wonderland full of many Animals, including penguins, polar bears, and more species. Players can also upgrade their facilities to attract more visitors in order to gain more money. The game closes on April 8, 2013 for poor performance.
Ad blocker interference detected!
Wikia is a free-to-use site that makes money from advertising. We have a modified experience for viewers using ad blockers

Wikia is not accessible if you've made further modifications. Remove the custom ad blocker rule(s) and the page will load as expected.